Rebuild Your Smile with Dental Implants
Gaps in your smile can cause discomfort, embarrassment, and frustration. Left untreated, they can have a serious impact on your oral health.
Our team at Dentistry at the Heights in Brooklyn, NY, provides comprehensive dental implant services to restore the beauty and function of your smile.
So why should you invest in dental implants?
Dental Implants Can Provide a Lifetime of Benefits

Lasting Support
When properly placed and cared for, dental implants can last 40 years or more. For many patients, implants offer lifelong restorative and cosmetic benefits.

Improved Oral Health
When teeth are lost, the jawbone begins to shrink or atrophy. Dental implants are the only tooth replacement treatment which prevents jawbone shrinkage.

Restored Self-Confidence
Unlike other restorative options, implant-supported restorations stay firmly in place, allowing you to feel confident while eating, speaking, and smiling.
Take a look at how implants fit into your smile...
An Introduction to Dental Implants
Dental implants are small, biocompatible titanium posts designed to replace a missing tooth more completely than traditional restorations like dental bridges and removable dentures. After a dentist at our Brooklyn office surgically places implants in the jaw, they will fuse with the surrounding bone to function like artificial tooth roots. The end result is a level of support for crowns, bridges, and dentures that simply cannot be matched by other restorative procedures.
Unlike traditional types, implant-supported restorations will never slip or fall out of position. Additionally, implants send regenerative signals to the jaw, which helps to halt the bone recession that naturally occurs after tooth loss.
Video: Dental Implant Placement

Single Missing Tooth
For patients who have lost only a single tooth, an implant-supported crown can offer an alternative to traditional dental bridges for filling the gap in their smile.

Multiple Missing Teeth
Dental implants offer a versatile solution for patients missing multiple teeth. An implant-supported bridge or denture can replace two or more teeth for comprehensive results.

Complete Tooth Loss
In cases of full tooth loss, dental implants offer an excellent alternative to removable dentures. Large restorations supported by implants are more stable and secure than conventional options.
Treating Decayed or Damaged Teeth with Dental Implants
Our dentists at Dentistry at the Heights always prioritize saving damaged teeth. However, in the cases of severe decay or trauma, a tooth extraction may be the only viable option for restoring your oral health.
Fortunately, our team can promptly replace extracted teeth with dental implants. The titanium posts take the place of missing tooth roots to provide an incredible level of stability. In addition, this process prevents the loss of bone tissue in your jaw for a healthier smile.
Our team will consider three factors before recommending treatment...

Jawbone Density
Dental implants are anchored directly into the jawbone. If we find that your jaw is too weak to support dental implants, we may recommend a bone graft procedure to help you qualify for treatment.

Oral Health
Gum disease and other oral health concerns can interfere with the success of your implants. Our dentists may need to perform additional procedures to prepare your smile for implant placement.

Health and Lifestyle
Health problems like unchecked diabetes can prevent you from healing properly after oral surgery. In addition, lifestyle factors, such as smoking, can increase your risk of complications.
Worried about Discomfort or Pain?
Many New York patients neglect dental care because they are worried about pain or discomfort. But our dentists want to help you feel at ease about your upcoming dental treatment.
During your dental appointments, you can take advantage of our various comforting amenities:
Pandora® radio
Netflix streaming
Noise-canceling headphones
We also offer nitrous oxide, oral conscious sedation, and intravenous (IV) sedation, which can help you relax during your procedure.
Let's take a closer look at how implants work...
One of the Most Advanced Dental Offices in New York
Our Brooklyn office serving greater Brooklyn Heights is equipped with the latest tools to make your treatment as safe and effective as possible. Throughout your implant treatment, we may use technology including:
Digital x-rays to understand your oral health with minimal exposure to radiation
Cone beam scans to create detailed images of your biostructures for personalizing and planning your surgery
Computer-guided implant technology so that placing your implants is faster and more precise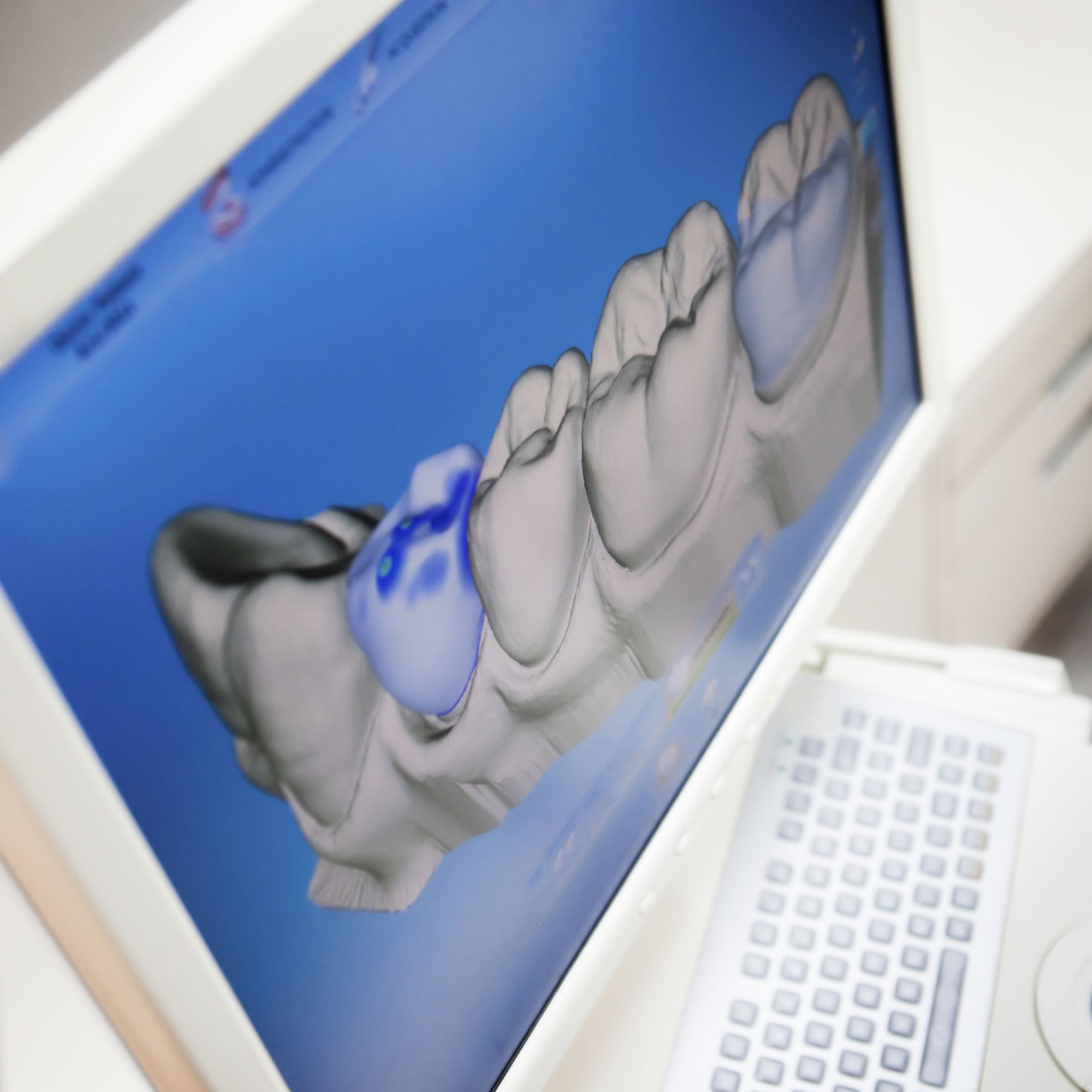 Preparing for Implant Surgery: What You Need to Know
Before scheduling your implant surgery, we will use our state-of-the-art tools and advanced implant training to determine whether you are a good candidate. If your x-rays or scans show us that you have experienced bone loss in the jaw, we may recommend procedures like a bone graft or sinus lift. These are performed several months before surgery.
Once you are cleared for surgery, we will provide a detailed set of pre-operative instructions to help you stay healthy in the days leading up to your procedure.
3 Steps to a Complete Smile
Planning Treatment
At Dentistry at the Heights, we plan dental implants treatments with advanced technology. Using our cone beam scanner, we will first create a detailed 3-D image of your jaw. This will allow us to evaluate the strength of your jaw and determine the ideal placement locations for your dental implants.
Implant Placement
To complete the first stage of treatment — implant placement — Dr. Trotter will follow a computer-guided surgical plan and insert your implants directly into your jaw. The number of implants being placed will depend on the type of restoration they will support.
Implant Restoration
Your implant-supported crown, bridge, or denture will be fabricated by skilled technicians at a dental laboratory. Once your restoration is ready, our team will attach it to your implants to instantly renew the appearance and function of your smile. In some cases, we can use our innovative CEREC® (chairside economical restoration of esthetic ceramics) system to create a restoration in our office in a single day.
Tips for a Healthy Recovery
After your implant surgery, you will be sent home to begin your recovery. If you received oral conscious or IV sedation, you will need a friend or family member to accompany you home after surgery. During the first few days, you should:
Use an ice pack to reduce facial swelling
Stick to a soft foods diet
Brush gently around your implants to protect your stitches
The implants will be left to heal for four to six months so that they can completely fuse with the jaw through a process known as osseointegration. We can provide a temporary restoration for you to wear while osseointegration takes place.
More Information for Prospective Patients
Dr. Kevin Trotter has extensive training in implant dentistry, and Dentistry at the Heights uses advanced technology to ensure the safety and lasting satisfaction of patients. In addition, we perform all stages of dental implants treatments here at our Brooklyn office serving Brooklyn Heights. We can combine implants with other restorative services in a full mouth reconstruction plan. To schedule a dental implants consultation, contact our practice today.
In some cases, we can use our innovative CEREC® system to create a restoration in our office and place it on the same day of implant surgery.
You may have heard that implants are expensive...
A Greater Upfront Investment Can Provide Substantial Benefits
Dental implants do typically cost more than conventional replacement teeth. However, for the vast majority of patients, the benefits of implants outweigh the cost. Additionally, implant-supported restorations often last longer than their traditional counterparts.
Dentures, in particular, require fewer adjustments when attached to implants. This increased stability and longevity can save you money on follow-up appointments and restoration costs.